Home › Promotions › Promotions
SERVA Lightning Red Fluorescent Dye
Highly Sensitive Detection by Pre-Labelling of Proteins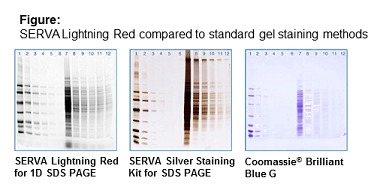 Protein Detection 2.0 - Pre-Labelling
Easy and fast - Mix your sample with SERVA Lightning Red.
After 30 min incubation at room temperature the sample is ready for electrophoresis.
Subsequent documentation, scanning, analysis etc. of the gel is directly possible.
After binding the dye can be excited at 530 nm.
The emission wavelength is 610 nm.
Benefits
Direct detection
No staining and washing steps after the run
Very high sensitivity: < 0.5 ng BSA
Wide dynamic and linear range
No over staining effects
Compatible with mass spectrometry and Western Blotting
Product of the Month May 2016
43401 SERVA Lightning Red

SERVA Market Square May - June 2016
Acrylamide Solutions
- For the perfect gel
- Buy directly from the manufacturer!


Protein Sample Preparation
- Proteus X-Spinner Ultrafiltration Concentrators
- Proteus Detergens Anion Exchange Mini Spin Columns


Western Blot
- Express Blotting Kits for Semi-Dry Western Blotting
- Protein Standard for Western Blotting
- Buffers
- Blotting Membranes


Enzymes
- Nucleases for Molecular Biology
- Proteases for Molecular Biology
- Enzymes for Bioanalysis


Cell Culture - Contamination Free
- MycoDecon
- GermDecin
- Mycorase Solution
- Ciprofloxacin·HCl
- Minocyclin·HCl
The "Market Square" Promotion is for all SERVA customers within the EU and cannot be combined with other discounts, promotions etc.
Online shop orders only.

SERVA Market Square May June 2016