Home › Promotions › Promotions
SERVA Laemmli Buffers
Excellent Quality for High Resolution SDS PAGE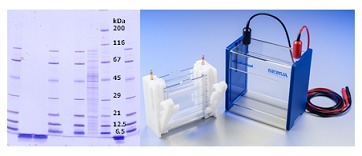 10x Running and 2x Sample Buffer for SDS PAGE
The mostly used buffer system for protein separation by gel electrophoresis – manufactured by the leading pre-cast gel producer in Germany using
SERVA high quality chemicals.
Features
For best and reliable separation performance
To run SERVAGel™ TG PRiME™ pre-cast vertical mini gels
To run self-made gels
Running buffer is provided in a 10 L-canister with outlet tap
Product of the Month July 2016
42526 Laemmli Buffer 2x
42556 Laemmli Puffer 10x

SERVA Market Square July - August 2016
The "Market Square" Promotion is for all SERVA customers within the EU and cannot be combined with other discounts, promotions etc.
Online shop orders only.

SERVA Market Square July August 2016