Home › Promotions › Promotions
SERVALight Vega Chemiluminescence Substrate
for Western Blots
Superior performance combined with low costs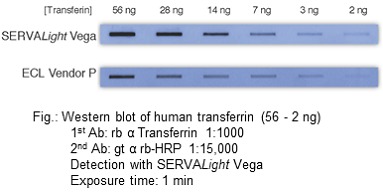 SERVALight Vega is an improved version of the well-known standard ECL western blot substrates. There is no need for change of protocol. Because the substrate is directly compatible with the protocols of standard ECL substrates of other vendors.
Superior blotting results combined with lower costs make the substrate the first choice for dialy routine analysis.
SERVALight Vega is readily prepared by mixing component A (luminol/enhancer solution) with component B (stabilized peroxide solution) in a one-to-one ratio.
Features
High signal intensity, low picogram limit of detection
Low background, even after long exposures
High signal/noise ratio
Working solution is stable for min. 5 days
Primary antibody dilution* : 1:1000 - 1:5000
Secondary antibody dilution* : 1:1000 - 1:15,000
(*starting from 1 mg/ml of antibody stock solution)
Product of the Month June 2016
42588 SERVALight Vega

SERVA Market Square May - June 2016
Acrylamide Solutions
- For the perfect gel
- Buy directly from the manufacturer!


Protein Sample Preparation
- Proteus X-Spinner Ultrafiltration Concentrators
- Proteus Detergens Anion Exchange Mini Spin Columns


Western Blot
- Express Blotting Kits for Semi-Dry Western Blotting
- Protein Standard for Western Blotting
- Buffers
- Blotting Membranes


Enzymes
- Nucleases for Molecular Biology
- Proteases for Molecular Biology
- Enzymes for Bioanalysis


Cell Culture - Contamination Free
- MycoDecon
- GermDecin
- Mycorase Solution
- Ciprofloxacin·HCl
- Minocyclin·HCl
The "Market Square" Promotion is for all SERVA customers within the EU and cannot be combined with other discounts, promotions etc.
Online shop orders only.

SERVA Market Square May June 2016