Sialidase, recombinantlyophilized
(Neuraminidase, Exoglycosidase)
Mr 85.000 •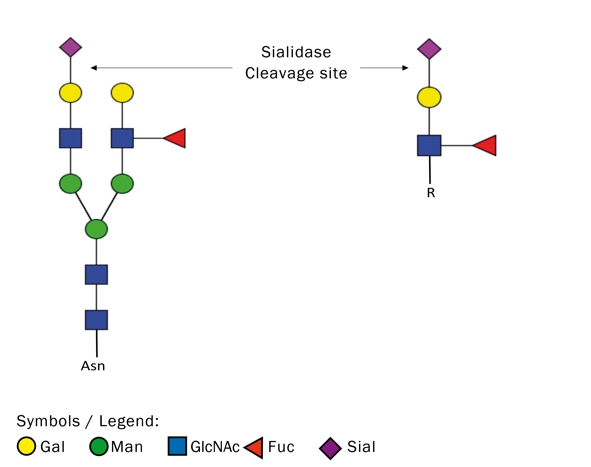 Sialidases are a family of exoglycosidases that catalyze the cleavage of non-reducing sialic acid residues of mono- or oligosaccharide chains on glycoconjugates. SERVA Sialidase, a recombinant glycosidase from Arthrobacter ureafaciens, cleaves α2,3-, α2,6- and α2,8- linked sialic acids. Because of its broad substrate specificity, Sialidase is capable of completely removing sialic acids from glycoconjugates of a wide variety of biological materials (cells, antibodies, serum, tissues etc.).
Especially designed and tested for mass spectrometry imaging and HPLC/UPLC
Contains a His-tag for easy removal by affinity chromatography

Because the enzyme is lyophilized, there is no need for refrigerated transport and storage is at room temperature. Concentration after reconstitution: 50 u/µl in 100 µl H2O dest.


Unit definition: Denatured alpha-1-antitrypsin (A1AT) (10μg) is incubated with 1 µL of reconstituted Sialidase for 60 minutes at 37 °C and then analyzed by SDS-PAGE and analysis with the sialic acid binding Sambucus nigra lectin (SNA).




HS: 35079090




Storage Temperature: +15 °C to +30 °C




*Please use the inquiry form in the right column.
Certificates of Analysis (Lot.-no. - release date)