N-Tris(hydroxymethyl)methylglycineanalytical grade
(Tricine)
C6H13NO5
•
Mr 179.17
•
CAS [5704-04-1
]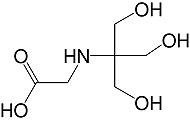 Zwitterionic Good's buffer used in biochemistry and molecular biology, which is part of the Tris buffer family and has a useful pH range of 7.4 – 8.8, pKa 20 = 8.15 (1).
Tricine is optimal to separate peptides that are in the molecular weight range of 1 to 100 kDa in SDS-PAGE. It is also used in capillary zone electrophoresis, high performance liquid chromatography and ion exchange chromatography. It is the best buffer for ATP assays involving firefly luciferase and is a scavenger of hydroxyl radicals. Tricine forms a complex with Cu(II) and is therefore used in the Lowry protein assay. Non-toxic substitute for barbital (2).
Assay (titr.)
A 1 cm/0.1 M in water
260 nm
280 nm

pH 10 % in water
Heavy metals (Pb)
Iron (Fe)


min. 99.0 %

max. 0.04
max. 0.02

4.6 - 5.2
max. 5 ppm
max. 5 ppm


References:
Good, N.E. et al. (1966) Biochemistry 5, 467-77
Monthony, J.F. et al. (1978) Clin. Chem. 24, 1825-7
EINECS: 227-193-6
•
WGK: 1
•
HS: 29225000
Storage Temperature: +15 °C to +30 °C
*Please use the inquiry form in the right column.
Certificates of Analysis (Lot.-no. - release date)
Material Safety Datasheets