Morpholinoethane sulfonic acidanalytical grade
(MES)
C6H13NO4S
•
Mr 195.24
•
CAS [4432-31-9
]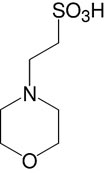 MES is a widely used zwitterionic N-substituted aminosulfonic acid Good's buffer (1) with a pH range of 5.5 - 6.7 and a pKa of 6.15 at 20 °C.
It is the ideal buffer substance for media and protein-based buffer formulations to maintain a stable environment in solution. Morpholinoethane sulfonic acid is used as a biological buffer in plant cell cultures; MES is also used in electrophoresis as an SDS PAGE running buffer for the resolution of small proteins and peptides.
This is a high purity grade for biochemistry and molecular biology. MES is non-toxic to cells, highly water soluble and offers high solution clarity. Due to its minimal lipid solubility, MES is impermeable to membranes.
Buffer solutions can be prepared with MES free acid by titrating the free acid with sodium hydroxide to the desired pH or by mixing equimolar volumes of MES free acid and sodium MES. When MES solutions are autoclaved, they turn yellow. Therefore, autoclaving is not recommended. To prepare nuclease-free buffers, treat the water first and then add the buffer after autoclaving
Assay (titr.)
A 1 cm/10 % in water
260 nm
280 nm
pH 10 % in water


min. 99.0 %

max. 0.1
max. 0.1
2.5 - 4.0

References:
Good, N.E. & Izawa, S. (1972) Methods Enzymol. 24, 53-68
Sankar, M. & Bates, R.G. (1978) Anal. Chem. 50, 1922-4
EINECS: 224-632-3
•
WGK: 1L
•
HS: 29349990
Storage Temperature: +15 °C to +30 °C
*Please use the inquiry form in the right column.
Certificates of Analysis (Lot.-no. - release date)
Material Safety Datasheets