(Acetyl-L-leucyl-L-leucyl-L-argininal)
C20H38N6O4·1/2H2SO4
•
Mr 475.6
•
CAS [103476-89-7
]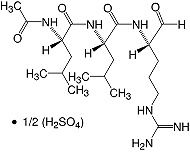 Leupeptin, or N-acetyl-L-leucyl-L-leucyl-L-argininal, is a naturally occurring tripeptide and a reversible Inhibitor of serine and cysteine proteases. Competitively inhibits calpain, cathepsin B, kallikrein, papain, plasmin, and trypsin, but is little or non-inhibiting for pepsin, cathepsin A and D, chymotrypsin, and thrombin.
Leupeptin forms in the active site of serine proteases a covalent hemiacetal adduct between the aldehyde group of leupeptin and the hydroxyl group of a serine residue in the enzyme active site. Inhibition of cysteine proteases is achieved by forming a comparable bond between the electrophilic (aldehyde) carbon of leupeptin with the sulfur atom of a cysteine residue in the enzyme active site.
Due to its aldehyde groups, leupeptin may interfere with protein detection assays (e.g. Bradford).
Stock solution: 5 mg/ml (10 mM) in H
2
O, ethanol, acetic acid and DMF (stabile at +4 °C for approx. 7 days and at -20 °C for approx. 6 months)
Working concentration: 1 - 100 µM (stabile only for few hours)
Assay (HPLC)
(sum of tautomeric isomers)

min. 96.5 %

References:
Umezawa, H. (1976) Methods Enzymol. 45, 678-83
Carlin, C. et al. (1994) J. Cell. Physiol. 160, 427-34
Savory, P.J. & Rivett, A.J. (1993) Biochem. J. 289, 45-8
Eto, I. & Bandy, M.D. (1990) Mol. Cell. Biochem. 94, 19-36
Benistani, B. et al. (1994) Biochim. Biophys. Acta 1223, 84-90
WGK: 1
•
HS: 29241900
Storage Temperature: -15 °C to -25 °C
*Please use the inquiry form in the right column.
Certificates of Analysis (Lot.-no. - release date)
Material Safety Datasheets