SERVAColor TMB Blot Solution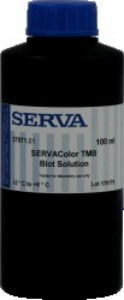 Ready-to-use, non-toxic, highly sensitive substrate solution for detection of horseradish peroxidase (HRP) in membrane assays. Forms dark blue precipitates at the sites of HRP activity on membranes.
Rapid precipitate formation due to high activity
High contrast due to very low background
Long term stability at room temperature
No significant fading after reaction stop
HS: 38220000
Storage Temperature: +2 °C to +8 °C
*Please use the inquiry form in the right column.
Certificates of Analysis (Lot.-no. - release date)