BlueBlot Semi-Dry Blotter SD26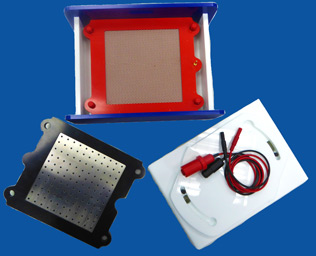 For fast and gentle electrotransfer of proteins in Western Blots.
The BlueBlot semi-dry blotter forms a homogeneous electrical field that guarantees fast and efficient transfer of proteins from gel to membrane. As associated with semi-dry blotting compared to tank blotting less heat is generated for gentle protein transfer. It is fast and requires less buffer. By applying the Xpress Blotting Buffer (cat. no. 42662) semi-dry transfer of high and low molecular weight proteins is done fast and efficient within 15 minutes. Moreover, all common continuous and discontinuous buffer systems can be applied without any limitations.
Anode is made from platinum-covered steel net, cathode is made from a stainless steel plate.. The springmounted anode allows blotting of thicker gels and gel stacks. To avoid air bubbles within the blotting system the cathode carries drill holes to transport gas generated by the electro-chemically blotting process from inside to outside. The electrodes are built into a stable acrylic housing that is resistant to 10 % ethanol and easy to clean. The long-lasting electrodes can be dismounted and cleaned separately. The BlueBlot semi-dry blotter has a blotting area of 24 cm x 26 cm.

Platinum-covered steel net as anode
Spring-mounted anode for blotting stacks
Stainless steel plate as cathode
Blotting area: 24 cm x 26 cm
Deployable for thicker gels and blotting stacks
HS: 90272000
Storage Temperature: +15 °C to +30 °C
BB-SD26.01
1 piece
inquire*
*Please use the inquiry form in the right column.