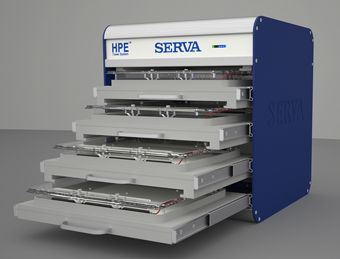 The HPE™ BlueTower System allows electrophoretical separations in up to four horizontal gels at the same time. It is used for 1D and 2D electrophoresis gels, where multiple runs are an important demand. Structurally, the HPE™ BlueTower consists of four horizontal electrophoresis chambers, which are built as movable drawers into a metal housing.
The HPE™ BlueTower and the HPE™ gels have been developed together as a system to achieve better results than with conventional SDS polyacrylamide gel electrophoresis (PAGE) technology. The precast HPE™ gels, which are less than 1 mm thin and film-backed, are protected from light during the run. No glass plates are used. They are placed on aluminum oxide ceramic cooling plates, which ensure very efficient heat dissipation and therefore straight electrophoretic migration in each gel.
Content:
HPE™ BlueTower (HPE-T02), HPE™ Power Supply Package (HPE-PSP) and HPE™ Cooling Unit (HPE-CU1).

→ Webinar "BioGenes´ Strategy for Host Cell Protein (HCP) Analysis" 14 February 2018 - download here:

http://chi-imagehost.com/chiwebinars/biogenes-host-cell-protein-webinar.mp4
HS: 90272000
Storage Temperature: +15 °C to +30 °C
HPE-TS2.01
1 piece
inquire*
*Please use the inquiry form in the right column.