SERVA Purple, 250x concentrate
(SERVAPurple, Fluorescence staining)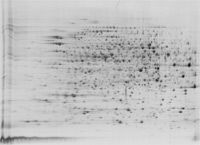 The fluorescent dye Deep Purple (marketed by GE) and LavaPurple (marketed by Gelcompany and SERVA) has been used by many laboratories for staining proteins in gels and on blotting membranes. The dye is based on a small naturally occurring fluorescent compound "Epicocconone" that reversibly binds to lysine, arginine, and histidine residues in proteins and peptides to yield an intensely red-fluorescent product. SERVA Purple is a further development of this compound "Epicocconone". It has improved properties due to a novel production and purification technology by unchanged cost-effectiveness compared to other fluorescence dyes or even silver staining.
Environmentally friendly, easy to use
Sensitivity to as low as 50 pg/band
Linear quantification over 4 orders of magnitude
Compatible with MS, DIGE-labelling
After imaging gel can be further processed by Western Blotting
References:
Moritz C.P. et al. (2014) Proteomics, Vol. 14, Issue 2-3, p. 162–8,
Epicocconone staining: a powerful loading control for Western blots.
GGVSE/ADR: 3 II UN1648
•
IATA: 3 II UN1648
•
WGK: 2L
•
HS: 38229000
Storage Temperature: -15 °C to -25 °C
*Please use the inquiry form in the right column.
Certificates of Analysis (Lot.-no. - release date)
Material Safety Datasheets