(Natural Black, Hämatoxylin)
C.I.75290
•
C16H14O6
•
Mr 302.29
•
CAS [517-28-2
]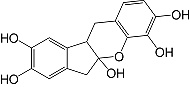 Tested for use in Delafield-Heidenhain staining.
Basophilic dye, which binds to acidic compounds like nucleic acids and is therefore useful for staining cell nuclei.
Hematoxylin is often used along with eosin, in histological study under light microscope.
λ max. 0.004 % in acetonitrile
Indicator


293 ±3 nm
pH 5.0 - 6.0


EINECS: 208-237-3
•
WGK: 2L
•
HS: 32030010
Storage Temperature: +15 °C to +30 °C
*Please use the inquiry form in the right column.
Material Safety Datasheets