Coomassie® Brilliant Blue R 250
C.I. 42660
•
C45H44N3O7S2·Na
•
Mr 826.0
•
CAS [6104-59-2
]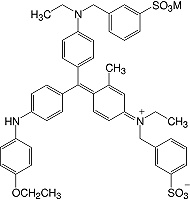 Sensitive triphenylmethane dye for protein detection in polyacrylamide gels. It may be combined with other stains, such as silver stain, to distinguish different types of proteins.
Corresponds to SERVA Blue R (cat. no. 35051).
Assay (UV)
Water (KF)
TLC

min. 75.0 %
max. 10.0 %
corresponds

Coomassie = registered trademark of ICI Ltd.
EINECS: 228-060-5
•
WGK: 2L
•
HS: 32041200
Storage Temperature: +15 °C to +30 °C
*Please use the inquiry form in the right column.
Certificates of Analysis (Lot.-no. - release date)
Material Safety Datasheets