SERVALYT™ PRECOTES™ CSF Kit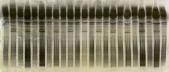 For cerebrospinal fluid (CSF) analysis by isoelectric focusing.
The kit contains:
- 5 SERVALYT™ PRECOTES™ CSF gels 245 x 125 mm, 300 µm
- Anode and cathode buffer solutions
- Applicator strips and electrode wicks
- Optimized protocol for silver staining
SERVALYT™ PRECOTES™ is a trademark of SERVA.
HS: 38220000
Storage Temperature: +2 °C to +8 °C
*Please use the inquiry form in the right column.
Certificates of Analysis (Lot.-no. - release date)
Material Safety Datasheets