BlueVertical™ PRiME™Mini Slab Gel Unit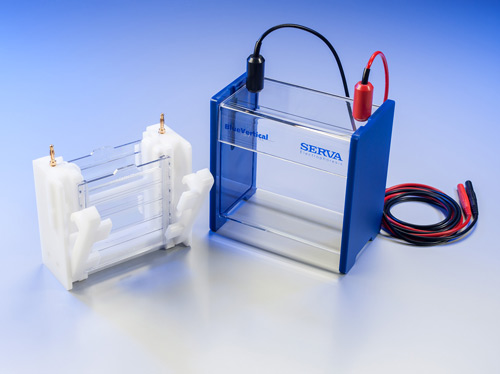 The BlueVertical™ PRiME™ is a dual mini tank system to operate one or two precast gels. It accomodates SERVAGel™ TG PRiME™, all other types of SERVAGel™ and all other commercially available precast gels with an outer cassette dimension of 10 x 10 x 0.7 cm. The fixture of the inner core unit has been re-engineered to provide four robust clamps (two on both sides) that fix two precast gel cassettes properly and tightly in their correct position. This ensures that the inner buffer chamber is leak-free separated from the outer buffer compartment.

Separation of proteins by SDS PAGE, native PAGE and IEF can be carried out as well as separation of nucleic acids. The outer buffer tank works as heat sink (passive cooling by buffer), sufficient for most applications mentioned above. You may run two SERVAGel™ TG PRiME™ simultaneously at 300 Volt. The run will be completed in about 35 minutes without warming up the buffer significantly. If additional cooling is required (e. g. for IEF applications), a magnetic stirrer can be applied to help circulation of buffer fluid.
The unit consists of an outer buffer tank and the inner core running unit. Mounting of precast gels does not require any tedious clamping but is a matter of seconds. The outer buffer tank is made from rugged transparent acrylic – watch your gel while running! A safety lid closes the top, giving the unit a very compact and robust design. Little bench space is required. The unit is, of course, in accordance with the European safety guidelines (CE mark). When quality becomes an issue – choose BlueVertical™ PRiME™.
Specifications:
Inner buffer volume
Outer buffer volume
Voltage (max)
Current (max)
Operating temperature
Electrodes
Dimensions
Weight


200 ml
450 ml
500 Volt
250 mA
4 °C - 65 °C
Rod electrode, platinum-coated
16 x 15.6 x 9.5 cm (WxHxD)
1.2 kg


HS: 90272000
Storage Temperature: +15 °C to +30 °C