BluePower™ 400 Marine Power Supply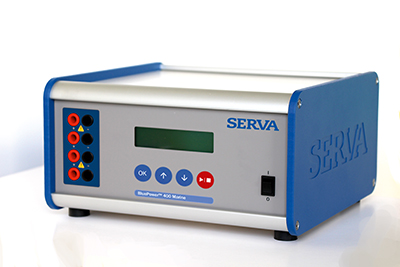 The BluePower™ 400 Marine Power Supply (400 V, 500 mA, 50 W) serves many applications like submarine electrophoresis of nucleic acid agarose gels and SDS PAGE in mini gel format. 4 x 2 outlets, programmable.
All SERVA BluePower™ power supplies are easy-to-use, safe and reliable. They are fully overload-protected including short-circuit of outputs: an automatic poweroff function stops the voltage when ground leakage is detected.

Automatic cross-over function
Each model has constant voltage, constant current and constant power capabilities with automatic cross-over and shows which parameter is kept constant.

Programmable power supplies
User-defined editing of programs is done quickly. 9 programs with each up to 9 steps can be stored. Once a set has been made, the parameters can be changed during the run, without interrupting it.

Data logging, data transfer and remote control
All BluePower™ power supplies have a continuous logging combined with a real time clock. Data can be transfered via USB interface to visualize and examine the stored run details. Moreover the power supply could be controlled by your computer via remote control function.

Timer Function
The timer function enables you to run your gels at a constant time, while the Vh integrator gives you maximum reproducibility of difficult
runs.

Voltage Ramp Mode
A linear voltage gradient for any step provided the limiting current current or power is not attained.
HS: 90272000
Storage Temperature: +15 °C to +30 °C
BP-400-MAR.01
1 piece
inquire*
*Please use the inquiry form in the right column.