Agarose SERVA FastSolve Tablets, 0.5 g/Tabletmolecular biology grade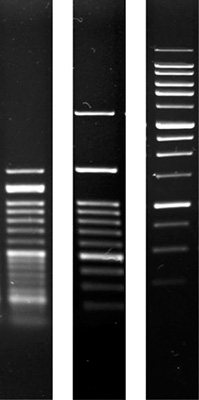 Fast dissolving, multi-purpose agarose tablets delivered in a convenient blister pack. The tablets are made of standard melting point agarose for high resolution of DNA and RNA (100 bp – ≥ 30 kb) with high clarity and low background. There is no need to weigh the agarose reducing the hands-on-time to < 1 min. Optimized gel strength for easy-to-handle gels. Special quality tested for applications in molecular biology. Manufactured using an innovative organic solvent-free manufacturing process.
Gelling temperature (1.5 %)
Gel strength (1.0 %)
Electro endosmosis (EEO)

34 - 38 °C
min. 1200 g/cm²
max. 0.13

EINECS: 232-731-8
•
HS: 39139000
Storage Temperature: +15 °C to +30 °C
11407.01
200 TABLETS
inquire*
*Please use the inquiry form in the right column.