Reagents for SARS-Cov-2 Detection
With this special we have summarized SERVA products for you, which can be used to detect SARS-CoV-2 from different aspects.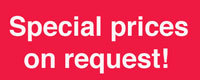 Ni-NTA Agarose Resins
Purification of His-tagged fusions proteins
Optimum selectivity for highest purity and best yields
Suitable for gravity, FPLC and HPLC purification
Magnetic beads especially for the batch process in small volumes
Reagents for Molecular Biology
Tested for absence of DNase and RNase
Ready-to-use buffer solutions or buffer substances, salts, solvents
Reagents for nucleic acid purification, PCR and electrophoresis
Enzymes such as the Salt Active Nuclease or Proteinase K in NGS quality
Reagents for Biochemistry
Ready-to-use buffers and buffer substances
In different qualities and pharmacopoeias
All reagents available in bulk quantities on request
Customer-specific mixtures and solutions
Reagents for ELISA
Blocking solutions, e.g. protein-free BlueBlock PF
Substrates like TMB as ready-to-use solution
Enzymes like peroxidase or alkaline phosphatase
AquaSpark™ chemiluminescence substrate for the detection of alkaline phosphatase
Please tell us the article and the desired quantity, either the number of a catalogue package or a different, larger quantity. Please contact us by e-mail (order@serva.de) or by phone (+49 6221 13840-47). You will immediately receive your special offer price and the estimated delivery time.
→ Find here the list of SERVA Reagents for SARS-CoV-2 Detection (PDF)