Proteinase K from Tritirachium album expressed recombinantly in Pichia pastoris

Proteinase K is a subtilisin-like serine protease with a broad substrate specificity. The enzyme degrades both terminal (exopeptidase activity) and internal (endopeptidase activity) peptide bonds.

The enzyme is active under wide range of reaction conditions, including elevated temperatures and presence of SDS. This recombinant enzyme is expressed in Pichia pastoris, and undergoes extensive purification to yield the highest quality product.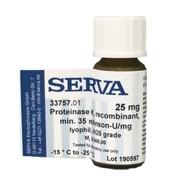 Features
Integrity of the isolated nucleic acids remains intact
Contains no endo-, exo- and ribonucleases
Solubility in water: ≥ 50 mg/m
DNA content: ≤ 0.1 pg/mg enzyme
Serin protease
Increased stability by Ca2+ (1 - 6 mM)
Activated by 0.2 - 1 % (w/v) SDS, 4 M urea

Active in the ph range: 4.0 – 12.0
(optimum: 7.5 – 8,.)
Active in the temperature range 20 °C – 65 °C (maximum activity at 50 °C – 65 °C)
Inhibition by the following serine protease inhibitors: AEBSF, PMSF and DFP
Unaffected by metal-chelating agents and sulfhydryl inhibitors
Ordering Information:
Product

Cat. No.

Size


Price

Special Price*

Proteinase K recombinant,
min. 35 mAnson-U/mg, NGS grade


33757.01
33757.02
33757.03

25 mg
100 mg
500 mg

43.00 €
113.00 €
509.00 €

34.40 €


90.40 €

407.20 €
*The special price is valid until November 30th, 2021
Please Note:
The "Product of the Month" promotion is for all SERVA customers within the EU and cannot be combined with other discounts, promotions etc.
---
Here you will find further sample preparation products, e.g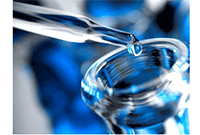 ---
Problems with 2D electrophoresis?
Here you will find the links to SERVA webinars with helpful advices for sample preparation:

If you have any further questions, please contact the SERVA team by phone (+49 6221 138 40-44) or by e-mail (Tech.Service@serva.de).