Product of the Month June
Detergent 7 X®, DNADecon & GermDecon
Detergent 7 X® has proven to be particularly suitable for the cleaning of laboratory glassware and instruments.
It removes any traces of chemical contamination which may interfere with cell growth or other biological processes.
Dries residue-free within seconds
Non-toxic for cell and tissue culture
No etching of delicate glassware
Immediately and completely soluble in water, independent of concentration
Environment-friendly, since phosphate-free
---
DNADecon is a highly effective, ready-to-use spray solution for removing DNA and RNA contaminants on surfaces, devices and laboratory equipment.
It is ideal for use in decontamination of PCR workplaces, because it completely destroys and removes DNA molecules from any surface.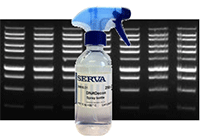 Supplied in a spray bottle for even application
Suitable for cleaning electrophoresis units, pipettes, reaction vessels etc.
---
GermDecon

is broadly effective disinfectant for instruments and surfaces.
To avoid cross-contamination or infection, disinfection of workplaces and instruments, especially in laboratories working with biological samples, is mandatory.
Supplied in a spray bottle for even application
It is among others active against: Bacillus subtilis, Candida albicans, Clostridium, Coliforms, E. coli, Enterococcus faecalis, Listeria, MRSA, Pseudomonas aeruginosa, Proteus mirabilis, Salmonella, Staphylococcus aureus, Streptococcus pyogenes and fungi.

Ordering Information:
Product

Cat. No.

Size


Price

Special Price*

Detergent 7X®


34205.01

34205.02

34205.03

1 L
10 L
10x 10 L

22.00 €
83.00 €
631.00 €

17.60 €


66.40 €
504.80 €


DNADecon

39810.01

39810.02

250 ml spray bottle
500 ml refill pack

31.00 €
42.00 €

24.80 €


33.60 €


GermDecon

34207.01

34207.02

750 ml spray bottle
1 L refill pack

26.00 €
25.00 €

20.80 €


20.00 €
*The special prices are valid until June 30

th

, 2020
Please Note:
The "Product of the Month" promotion is for all SERVA customers within the EU and cannot be combined with other discounts, promotions etc.

→ Technical Note: Detergent 7X® Concentrate

→ Technical Note: Contamination-Free