SERVA Silver Staining Kit
The SERVA Silver Staining Kit allows a highly sensitive protein staining in SDS PAGE gels.
This staining is compatible with subsequent mass spectrometry (MS) analysis.


Fig.: Silver-stained
SERVAGel™ TG PRiME™ 4 - 20 %

Lanes 1 - 6: Protein Test Mixture 6
(cat. no. 39207)

Lanes 7 - 12: E. coli lysate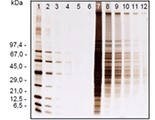 Ordering Information:
Product

Cat.-No.

Size


Price

Special Price*

SERVA Silver Staining Kit SDS PAGE
for 25 gels


35076.01

1 Kit

179,00 €

143,20 €


*The special price is valid until August 31st, 2018
Please Note:
The "Product of the Month" promotion is for all SERVA customers within the EU and cannot be combined with other discounts, promotions etc..


---
Did you know? [Muster 2-spaltig]
SERVA Musketeer:

For detection und documentation of Lightning Red stained proteins in the gel an on the
blotting membrane.

All-In-One system for chemiluminescence, fluorescence (RGB, UV) and white-light
Cooled CCD camera (6M)
UV, RGB, WL, Epi-RGB, Epi-WL
Auto-Focus
Dimension (LxWxH): 452 x 423 x 659 mm


SERVA HPE™ Lightning Red:

Quick and easy fluorescence labelling of proteins prior to 2D PAGE


Direct detection
No staining and washing steps after the run
Very high sensitivity (< 100 pg protein/spot)
Wide dynamic and linear range
No over-staining effects
Compatible with subsequent mass spectrometry and Western blotting