Xpress Blotting Kits for semi-dry blotting of proteins within

15 minutes

.
Blotting buffer for fast and efficient transfer
of high- and low-molecular weight proteins
Blotting fleece instead of several layers of blotting paper as buffer reservoir
Ready-to-use: No handling of buffer components or cutting of blotting papers and membranes
Compatible with nitrocellulose and PVDF membranes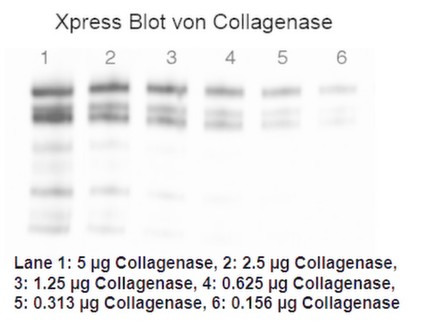 Kit Components:

For 10 blots, size 80 x 85 mm:

250 ml 10x SERVA Xpress Blotting Buffer
20 pcs. Blotting Fleece
10 pcs. Connection Paper


Xpress NC Blotting Kit:
additional 10 sheets of supported
nitrocellulose membrane NC2,
pore size 0.2 µm


Xpress PVDF Blotting Kit:
additional 10 sheets of PVDF membrane,
pore size 0.2 µm

Did you know?


For fast and efficient protein transfer the BlueBlot semi-dry blotter is the unit of choice due to its homogeneous electrical field.

Subsequent chemiluminescence detection can easily be performed with the GeneGnome system.

The detection system is completed by different substrates, e.g. SERVALight Vega CL HRP WB Substrate Kit (cat. no. 42588).

To find further products for western blotting, e.g. protein free blocking reagents, chromogenic substrates etc. please click here.
Ordering Information:
Product

C

at. No.

Size


Price

Special Price*

Xpress Blotting Kit


42662.01

1 Kit

57.00 €

45,60 €

Xpress NC Blotting Kit

42663.01

1 Kit

131.00 €

104,80 €

Xpress PVDV Blotting Kit

42664.01

1 Kit

179.00 €

143,20 €

*The special prices are valid until December 31st, 2017


Please Note:
The "Product of the Month" promotion is for all SERVA customers within the EU and cannot be combined
with other discounts, promotions etc.