Product of the Month January
Quick Coomassie® Stain &
SERVA DNA Stain Clear G
Safer Stains for your Lab:
Quick Coomassie® Stain allows protein staining within 15 min without any organic solvents or phosphoric acid.
SERVA DNA Stain Clear G

is a non-carcinogenic and sensitive stain for nucleic acids suitable for agarose and polyacrylamide gels.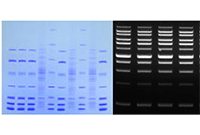 ---
Quick Coomassie® Stain


Staining of protein gels within 15 min
Sharp protein bands, MS compatible
Detection limit: approx. 15 ng (BSA)
Very low background
Re-usable up to 3 times
Ready-to-use colloidal Coomassie® solution
No organic solvents and no phosphoric acid

→ Please find further protein and nucleic staining reagents here.

SERVA DNA Stain Clear G

Non-carcinogenic, in water dissolved fluorescent stain
Low background, high sensitivity
1 ml of this stain is sufficient for
17 - 25 L agarose gel
Fluorescence emission similar to EtBr
at ca. 530 nm when bound to nucleic acids
Excitation at 312 nm (UV)
(λex max.: 490 nm, λem max.: 530 nm)
Ordering Informationen:
Product

Cat. No.

Size


Price

Special Price*

Quick Coomassie® Stain

35081.01

1 L

147.00 €

117.60 €

SERVA DNA Stain Clear G


39804.01
39804.02

1 ml
5x 1 ml

90.00 €

401.00 €

72.00 €


320.80 €
*The special price is valid until December 31th, 2022
Please Note:
The "Product of the Month" promotion is for all SERVA customers within the EU and cannot be combined with other discounts, promotions etc.
---
Did You Know?
SERVA products for gel documentation and analysis:
BIO-5000 Plus VIS Scanner
Dual platform scanner specially designed for scanning of electrophoresis gels and blots by visual detection


Fluorescence Gel Imager
Integrates image capture, gel preview, and gel extraction essential for routine nucleic acid and protein gel electrophoresis
Contains high-sensitivity CCD system and Blue-LED illuminators
LabImage 1D Gel Analysis Software (available as academic and commerical versions)

L-320: Basic version for standard 1D analysis of protein and nucleic acid gels



L-340:

Advanced version that additionally includes grimace correction, Rf calibration and correction of multiple standards, can normalize not only single band but group of bands and has an additional export report to RFT and XLS. An additional module allows FDA 21 CFR Part 11 compliance

L-360: Allows additional detection of multiple regions of interest (ROIs) and is fullly automatable (create and edit macros for automation, apply macros to single image or image stack)