Home ›


Fast and efficient removal of nucleic acid contamination during protein purification
Cyanase™ Inactivation Resin:
For simple and easy removal of Cyanase™ Nuclease.
No more worries about downstream contamination with nucleases or difficult removal processes which may compromise product integrity.
Cyanase™ Nuclease / Cyanase™ Inactivation Resin

The only endonuclease with an optimum activity in 0.5 M NaCl and significant activity at low temperatures:
Your choice for removal of protein bound DNA during protein purification.
Salt Active Nuclease

PRiME™ stands for Premium Resolution in Minigel Electrophoresis.
SERVAGel™ TG PRiME™ gels are Tris/Glycine precast gels of long shelf life (12 months) for SDS PAGE in 35 minutes in BlueVertical™ PRiME™ or other standard vertical mini slab gel systems (outer dimension of 10 x 10 cm).
SERVAGel™ TG PRiME™

BlueVertical™ PRiME™ has been especially designed to run SERVAGel™ precast gels and other precast gels with an outer cassette dimension of 10 x 10 x 0.7 cm.
The fixture of the inner core unit has been completely re-engineered to ensure the precise fit of the gel cassette(s).
BlueVertical™ PRiME™ - The New Slab Gel System

SERVA HPE™ Lightning Red and
SERVA Lightning Red for 1D SDS PAGE
– replace gel staining with an easy pre-labelling procedure

SERVA Purple and SERVA ProteinStain Fluo-Y
– highly sensitive fluorescence dyes for staining of
1D and 2D gels and blotting membranes
SERVA HPE™ Lightning Red
SERVA Lightning Red for 1D SDS PAGE
SERVA Purple
SERVA ProteinStain Fluo-Y
- smooth motion on your bench!

The SERVA BlueShake 3D works with a rotational 3D motion and is flexible applicable in various incubation and preparation techniques (e. g. staining/destaining procedures).
SERVA BlueShaker 3D_D
Superior performance combined with low costs —




makes it an excellent choice for your daily routine analysis.
SERVALight Vega CL HRP WB Substrate Kit
| | |
| --- | --- |
| High biotin binding capacity resin for purification of biotinylated biomolecules | |
The resin combines a binding capacity of >330 nmol biotin/ml gel with very low non-specific binding and less leaching.
Streptavidin Agarose Resin
Easy and fast purification of His-tagged fusion proteins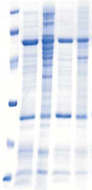 SERVA IDA Agarose Resins
Ni2+-, Co2+-, Zn2+- or Cu2+- chelates and metal-free resins in two activation grades available – a solution for every purification problem
Nickel NTA Agarose Resin
The most common IMAC resin for working in reducing conditions
SERVA IDA Agarose Resins
SERVA Ni-NTA Agarose Resins
Easy and fast purification of GST-tagged fusion proteins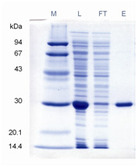 High purity and yield achieved with one purification step
Glutathione Agarose Resin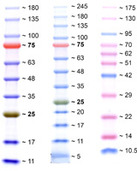 SERVA's new pre-stained protein standards are stable for up to two weeks at 25 °C. Therefore no refrigerated transport is necessary, which saves not only costs, but is also more eco-friendly. No need to worry about protein degradation during handling of the marker
SERVA Triple and Pink Color Protein Standards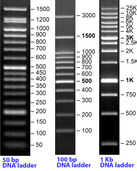 The new SERVA FastLoad DNA markers are available as 50 bp, 100 bp and 1 kb DNA ladder. They are stable at room temperature, which makes them not only economic and eco-friendly because there is no need for refrigerated transport. But you also save time, since thawing of markers prior to loading on the gel is not required. For easy estimation of DNA mass the appropriate mass of each marker band is indicated.
SERVA FastLoad DNA Ladders

Temperature control on your bench!
The SERVA BlueThermo H and HC shakers are precise heating (H) and heating & cooling (HC) thermoshakers.
SERVA BlueThermo H/HC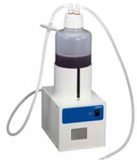 For quick and safe aspiration of liquids in cell biology.
SERVA BlueCell Vario Aspiration System

The BlueSpin Mini and BlueSpin Cryo (refrigerated) are compact benchtop microcentrifuges for all kind of molecular biology experiments.
SERVA BlueSpin Microcentrifuges

CentriPure, CentriPure Mini Spin and
CentriSpin columns:
Ready-to-use columns for fast and efficient desalting, buffer exchange and removal of small molecular impurities from protein samples
New: Gelfiltration Columns


Greifswald, July 20 - 25 2015
2015-Summer School

SERVA's mission is to bring innovative products to the life science research market. We pursue the highest standards in product quality, workplace safety and responsibility for the environment we live in. SERVA's commitment is to meet the changing needs of scientists while sustaining consistently high product quality and customer service –
SERVA Serving Scientists.
Company Profile