Home › Neomycin·sulfate
Neomycin·sulfate
research grade
C23H46N6O13·xH2SO4
•
Mr 614.7 (base)
•
CAS [1405-10-3
]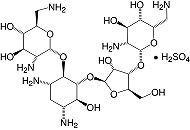 Ph.Eur. Min. 680 U/mg. Aminoglycoside antibiotic complex. Inhibits protein biosynthesis by binding to the 30S subunit of bacterial ribosomes. Causes misreading of mRNA.
References:
Cox, D. et al. (1977) in: Sammes, P.B. (ed.) Topics in antibiotics chemistry vol. I. Chichester: Horwood, pp. 1-90
Lancini, G. & Parenti, F. (1982) Antibiotics, Springer, New York
EINECS: 215-773-1
•
WGK: 1
•
HS: 29419000
Storage Temperature: +2 °C to +8 °C
Cat.No.
Size
EUR
30250.01
10 g
inquire*
30250.02
25 g
inquire*
30250.03
100 g
inquire*
*Please use the inquiry form in the right column.
Additional Information
Antibiotics in Mammalian Cell Culture: Table
Ähnliche Produkte