SERVA's mission is to bring innovative products to the life science research market. We pursue the highest standards in product quality, workplace safety and responsibility for the environment we live in. SERVA's commitment is to meet the changing needs of scientists while sustaining consistently high product quality and customer service –
SERVA Serving Scientists.
Company Profile

SERVA HPE™ Lightning Red -
Fluorescent Pre-labeling of Proteins in 2D PAGE

SERVA HPE™ Lightning Red is a fluorescent dye for rapid labeling proteins prior to 2D PAGE, making any staining and washing steps after electrophoresis unnecessary. In addition the dye is fully compatible with mass spectrometry and other downstream methods like Western Blotting.
SERVA HPE™ Lightning Red
BlueVertical™ PRiME™-
the new mini slab gel system from SERVA

BlueVertical™ PRiME™ has been especially designed to run SERVAGel™ precast gels and other precast gels with an outer cassette dimension of 10 x 10 x 0.7 cm.
The fixture of the inner core unit has been completely re-engineered to ensure the precise fit of the gel cassette(s).
BlueVertical™ PRiME™ - The New Slab Gel System
SERVAGel™ TG PRiME™ for SDS PAGE

PRiME™ stands for Premium Resolution in Minigel Electrophoresis.
SERVAGel™ TG PRiME™ gels are Tris/Glycine precast gels of long shelf life (12 months) for SDS PAGE in 35 minutes in BlueVertical™ PRiME™ or other standard vertical mini slab gel systems (outer dimension of 10 x 10 cm).
SERVAGel™ TG PRiME™
Cyanase™ Nuclease:
Your alternative for Benzonase®

Fast and efficient removal of nucleic acid contamination during protein purification
Cyanase™ Inactivation Resin:
For simple and easy removal of Cyanase™ Nuclease.
No more worries about downstream contamination with nucleases or difficult removal processes which may compromise product integrity.
Cyanase™ Nuclease / Cyanase™ Inactivation Resin
Salt Active Nuclease

The only endonuclease with an optimum activity in
0.5 M NaCl and significant activity at low temperatures:
Your choice for removal of protein bound DNA during protein purification.
Salt Active Nuclease
Gelfiltration Columns from emp Biotech –
fast and efficient protein purification

CentriPure, CentriPure Mini Spin and
CentriSpin columns:
Ready-to-use columns for fast and efficient desalting, buffer exchange and removal of small molecular impurities from protein samples
New: Gelfiltration Columns
Spectra/Por® microFloat-A-Lyzer®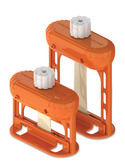 Laboratory microdialysis just got easier
than ever!
For easy and efficient dialysis of very small sample volumes: Available in volume sizes of 100 – 200 µl and 400 – 500 µl
Spectra/Por® microFloat-A-Lyzer®

Unchanged Quality of Gelcompany Products and Continuation at SERVA – Important Information to our Customers
This is to inform you that effective February 01st, 2012 all former Gelcompany electrophoresis products will be produced by SERVA and labeled "SERVA". The precast gel products (like "FocusGels", "CleanGels" and HPE 2D-gels) remain unchanged in regard to the original manufacturing process established by former Gelcompany GmbH (Tuebingen, Germany). This guarantees that there will be no change at all in properties of the products you are ordering from today.
HPE™ — High Performance Electrophoresis
Gelcompany products now under SERVA label (pdf)
Brochure: Everygel for Electrophoresis
Paper of S. Kjellqvist, Karolinska Institute Stockholm